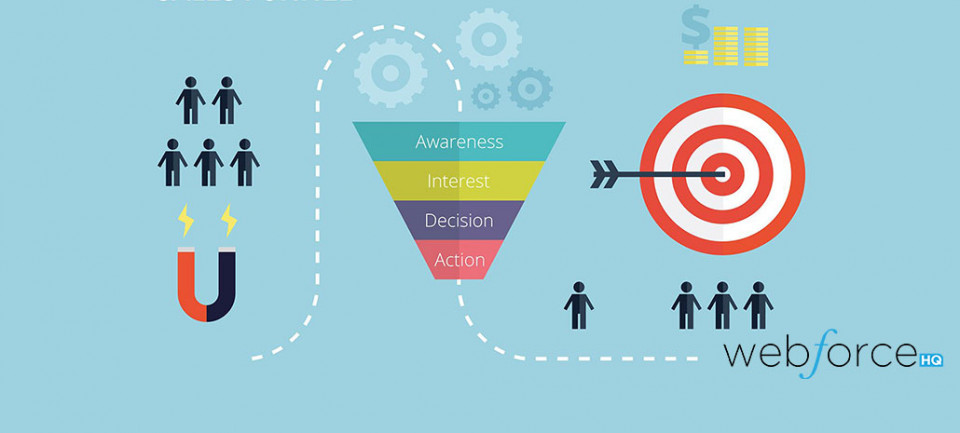 What Is A Sales Funnel And How Do I Create One?
If you're searching for ways to improve your online marketing objectives such as lead generation, sales or engagement then you've probably heard the term "Funnel". The main idea behind a Marketing or Sales funnel is to make things easier for your marketing objectives and help you sell your products or services online.
A sales or marketing funnel is really just the series of steps you set up to turn prospects into customers. The idea behind setting up a funnel is that when you understand exactly what you want potential customers to do next, it's much easier to get them to do it.
If you remove unnecessary distractions then your potential customers can follow a series of steps to get to where they need to be much faster.
Think about when you entered a big superstore for the first time to buy a specific item. You don't have much in the way of direction to go straight to what you are searching for. You start to wander and see other things that catch your eye and before you know it you forget what you were looking for in the first place.
But what if as soon as you entered the store there was a path for you to follow that took you straight to the item you are looking for. Or better yet, the store only sold that specific product.
It would be much easier for you to get what you are searching for right?
Well, that is essentially what a funnel does.
The hard part is in finding what your customers are searching for and how that applies to you.
So to build a successful funnel you need to start by identifying your business goal.
What Do You Want Your Marketing to Achieve?
You probably want to get more sales. But when you're figuring out how to build a sales funnel effectively, you'll need to get a little more specific than that. The broader you make your target, the less likely you are to hit it.
Read More About Setting S.M.A.R.T. Business Goals Here >
Once you know what you want your campaign funnel to achieve, it's time to work your way backward through your funnel and determine these 3 things
The Last Thing Your Lead Sees...
Before they become customers, How do you make the sale?
The most obvious last stop before your customers reach their destination is a checkout page.
This is the last decision step, so your customer has already been exposed to your product or service in a way that motivated them to buy.
So now we take one step back and look at those motivating factors.
This is where you funnel can either be pretty simple or become quite complex, So let's look deeper into this.
The Middle Of The Funnel: Engagement
Say your goal is to sell an e-book. Now, you could simply give people a link to a web page about your e-book, from which they can click through to your shopping cart and purchase.
That strategy might work for someone who has a huge existing following. But unless you're already a bestselling author, you probably need to give people more context for what you're offering. You need to find ways to engage them.
Often, one of the best ways to engage people is to give them a free sample of what you have to offer. If they like it, many of them will be motivated to make a purchase.
So for your e-book, you may want to take a step back from the product page and create a landing page that lets people opt-in for a free download of your first chapter (in exchange for their email address).
Take another step back, and perhaps you decide to write a blog post about your e-book topic, which links to that free-download landing page.
Landing pages and blog posts aren't your only options for engaging people, and in fact, they'll rarely stand alone pages. For instance, if someone opts in for your free-chapter download, you'll want to use the email address they provided to email them with information on how to buy your full book. You may even want to create a series of emails, depending on how much additional engagement you think your audience will require.
With each step you take back from the end goal, your audience should be getting broader even though you're still keeping a narrow focus on the one action you want those people to take.
Ultimately, that brings us all the way back to . . .
The Top of the Funnel: Generating Traffic
To generate traffic you need to focus on where you're going to find the people reading your blog posts, viewing your landing pages, and making purchases.
This can be from multiple sources of traffic that are available online. A traffic source is anything that attracts people to what you're promoting. It turns strangers into engaged prospects.
Traffic sources can be paid or free, online or offline and they include things like:

Pay-per-click advertising, such as Facebook Ads or Google AdWords
SEO
Social media
Email
Affiliates
Fine Tuning your campaigns for each traffic source can take some time, but the if you've been working your way backward from the end goal, then you'll know the most important thing. Where this traffic should end up.
That alone puts you way ahead of most new marketers. For instance, you'll know that you probably shouldn't be directing traffic to your homepage or to a huge product-inventory page, because those kinds of pages don't usually present a clear opportunity for engagement.
Instead, you'll direct traffic to a point of engagement, such as a focused landing page. Which leads people to the next step in your funnel, which leads to the next step . . . right on down to your big goal at the end.
Great, I Mapped out a Funnel. Now, How Do I Turn This Thing On?
Once you've figured out the goal, bottom, middle, and top of your sales funnel, it's time to fill in the details. We have a quick and easy way to get a funnel ramped up quickly and it revolves around what we call a Simple Funnel. This is made up of 2 or 3 Step Pages
This is the basis of many more elaborate & complex funnels that have achieved incredible results. But for now let's stick to the basics.
Step 1: Landing Page
Whether they arrive from one of your traffic sources or from engaging content, visitors wind up here to learn more about a specific product or service. This page segways into your next step...
Step 2: Squeeze or Cart Page
A squeeze page is designed to get your visitors to opt-in or sign up for whatever you have to offer while passing their contact information on to you. Of course, if you're actually ready to make a sale, you'll want to substitute whatever point of payment you use instead of an opt-in form.
Step 3: Thank You Page
This may seem optional, but you're forgoing a big advantage if you don't present thank-you pages after each key step. We actually like to call these "thanks, and . . ." pages, because they're an excellent opportunity to ask new leads to take the next step right then and there. For instance, you can use a thank you page to link to your product page and bring visitors to the end of your funnel, create more top-of-the-funnel action by asking your new leads to share your offer on social media or better yet presenting your new customer with additional products & services.
So now when someone arrives from one of your traffic sources you know they will move swiftly through your funnel.
If your business needs to generate more leads & sales and need help setting up a funnel, We can help. Contact us today to discuss your needs so that we can help you achieve your goals.